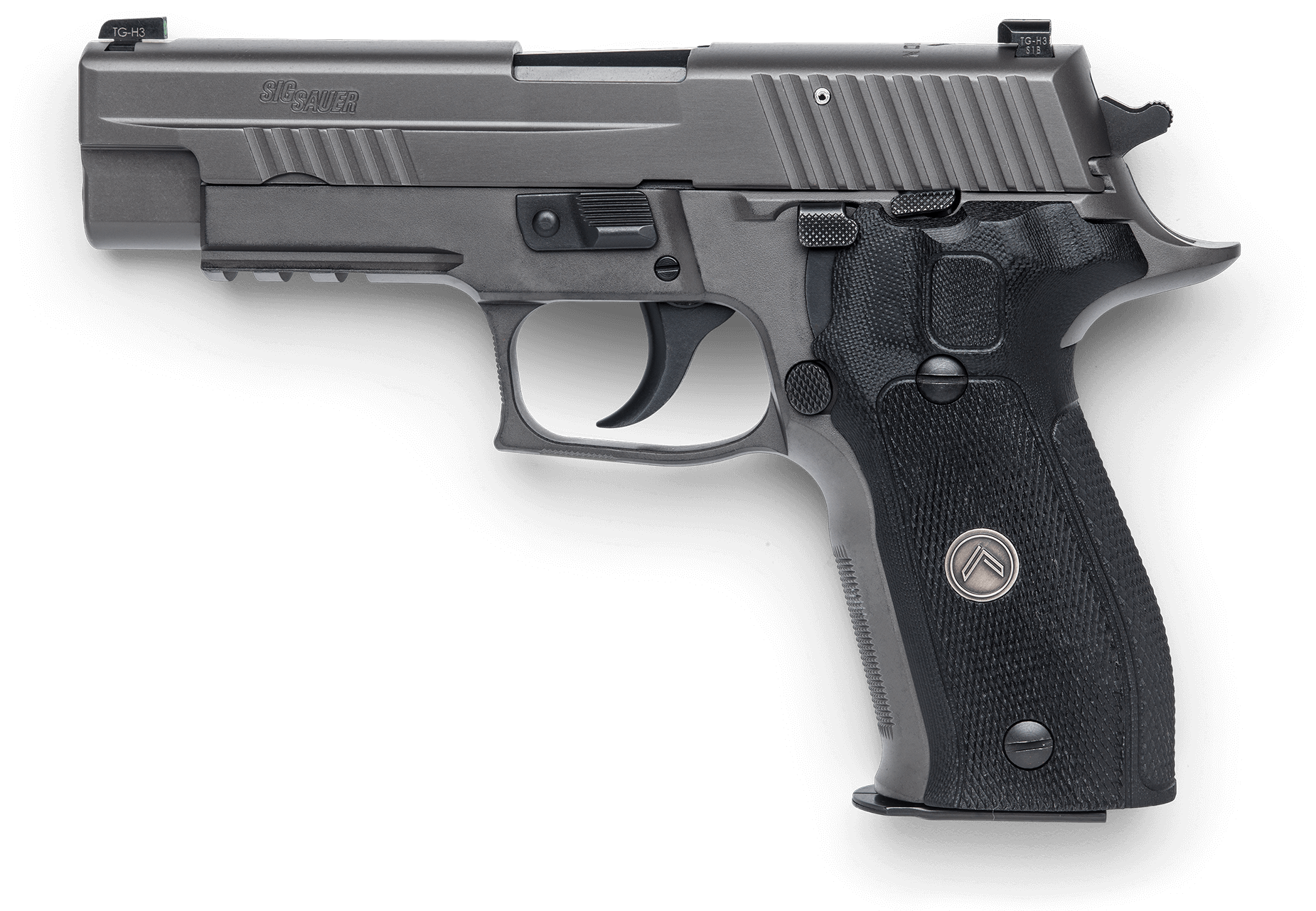 Step 3: Update your P226 Sights
The P226 Legion is the first gun to feature SIG's brand new X-RAY™ high visibility day/night sights, courtesy of SIG's new Electro-Optics Division. The front sight is a tritium-filled night sight surrounded by a neon green "big-dot" style ring for easy viewing:
The rear sight is a "blacked-out" rear night sight, with a large U-shaped notch that speeds acquisition of the "big-dot" style front sight:
This style of sight has become very popular with defensive shooters, as it provides excellent sight acquisition in bright, dark, and transitional lighting situations. Sig Sauer confirmed to me on the phone that they do plan to sell the X-RAY™ sights separately some time next year, but all current production is going toward the Legion series guns. UPDATE: SIG's X-RAY™ sights are now available online.
As of January 2015, you can purchase the SIG Sauer X-RAY™ sights, but they're not your only option. You can also purchase other sights that look very much (and I mean very much) like the Legion's. Compared side-to-side, SIG's new X-RAY™ sights appear (ahem) heavily inspired by the popular Trijicon HD Night Sights, which you can pick up for around $130-ish online:
I've been running Trijicon HDs on many of my guns since they first came out. They're an excellent option and essentially replicate the performance of the SIG X-RAY™ sights on a P226. The main difference I can see is that the SIG's sights are neon green, while the Trijicons come in neon yellow or neon orange.
If you take a really close look at the sights on a Legion, you might notice the letters TG-H3… which leads me to believe that Truglo is who actually makes these sights for SIG. It wouldn't be the first time Truglo provided OEM sights for a SIG P226… they also provided the sights for the P226 Blackwater in the 1990s.
Also keep in mind that unless you have a SIG Sight Tool (I bought one years ago and have gotten great use out of it), or are brave enough to use the hammer-and-punch method of replacing sights, you'll need to get a local gunsmith to install and adjust the new sights for you.