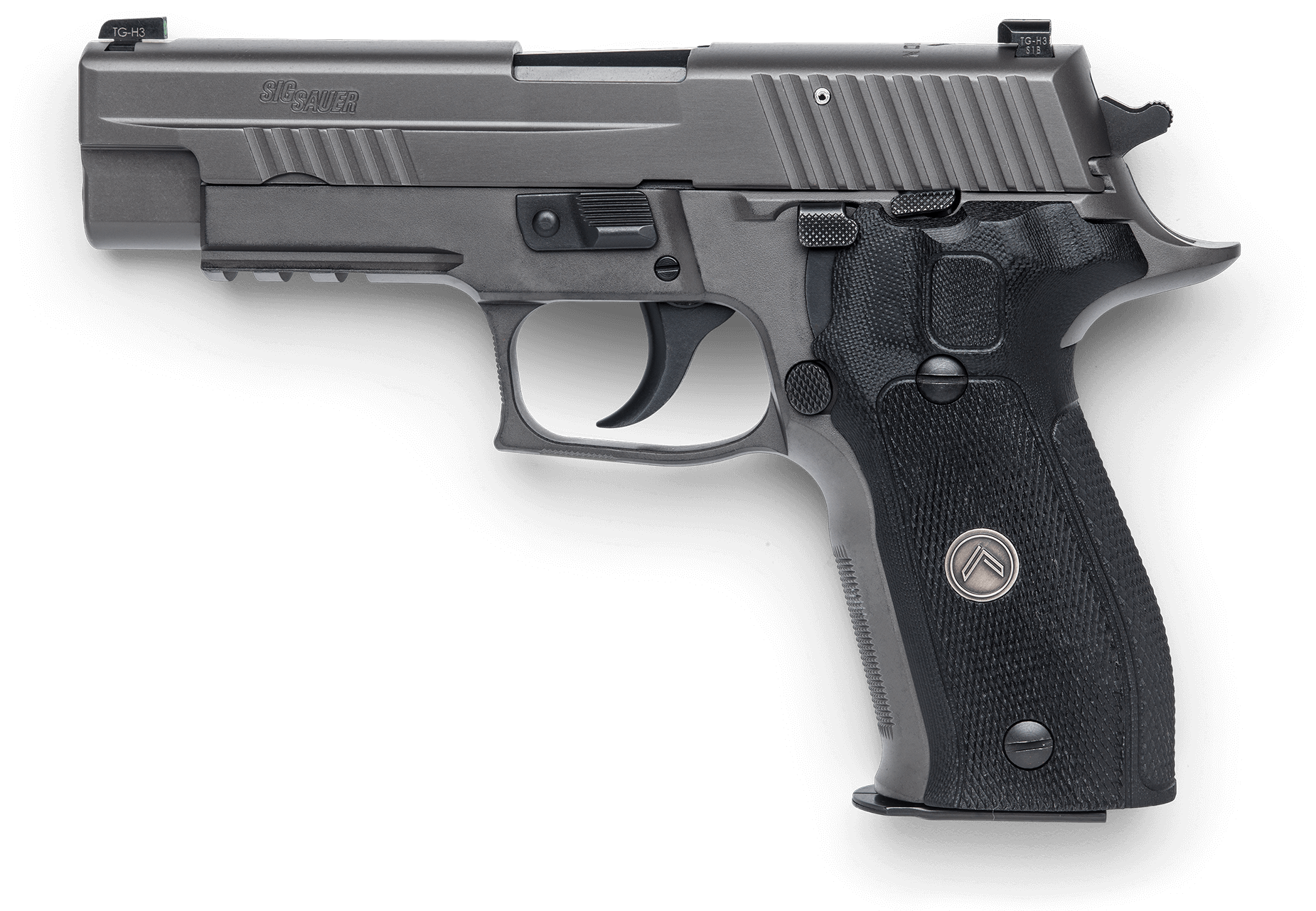 Step 4: Upgrade your P226 Guide Rod
If you have a West German P226, your guide rod is probably hollow and made from sheet steel. Though some very early P-series pistols did come with solid steel guide rods, and some very recent ones use plastic. The P226 Legion features a proper solid steel guide rod, which SIG confirmed to me they make in-house.
The argument "for" solid metal guide rods is that they increase the weight near the muzzle-end of the gun, reducing "muzzle flip" and helping shooters get back on target more quickly. It's not night and day, but I find I shoot slightly better with solid guide rods. And I have friends to say they don't. Regardless, if you're looking to "upgrade" your pistol so it's closer to a Legion, you'll want to install a solid metal guide rod.
The original SIG sold carbon steel guide rods from back in the day were part# 34-260-510. They're now discontinued, but were originally sold in bulk packs by SIG Sauer, so you can sometimes come across them on eBay (I recently bought two new old stock ones for $7 each). Sig  confirmed to me that they while they do have an internal part number for the solid Legion guide rods, that they don't sell them to the public.
The good news is that you have plenty of choices for aftermarket solid steel guide rods. I'm currently working on a separate article comparing the weights and dimensions of the most popular options, but it's not a fancy part and they all do the same thing. If you type "P226 guide rod" into Amazon, you'll get lots of options. I've personally had good results with the American National Firearms stainless steel guide rods (available in matte black, black satin, and polished), as well as the SS Guiderods "combat" stainless steel guide rods (also available in black nitride and polished), in a variety of my SIGs. All of them cost around $20 each.
Another good option is the Grayguns "FAT" stainless steel guide rod, designed by renowned SIG pistol smith Bruce Gray… who also happens to supply the trigger on the P226 Legion (more on that later). The polished one retails for $25, and the "super black" coated one sells for $30. They're manufactured to the maximum internal diameter of the recoil spring, which they claim "eliminates the possibility of coil-jumping and damage when used with correctly selected aftermarket single strand recoil springs."
For a head-t0-head comparison of all these solid guide rods, check out my SIG P226 Guide Rod Comparison video.
SIG's hollow steel guide rods weigh less than half an ounce. Most aftermarket stainless guide rods weigh around 1 oz. But if you want to go heavier, or simply like things that have "tactical" in the title, you may want to check out the American National Firearms Tungsten Tactical Pro G2. It's the heaviest at 2 oz, but also the most expensive at $48 — which isn't crazy, if you happen to believe that tungsten is the "most baller of all the metals." The Tungsten Tactical Pro also comes with 15 lb and 20 lb a competition recoil springs, though I don't recommend running anything other than the factory 16 lb spring in a defensive gun.