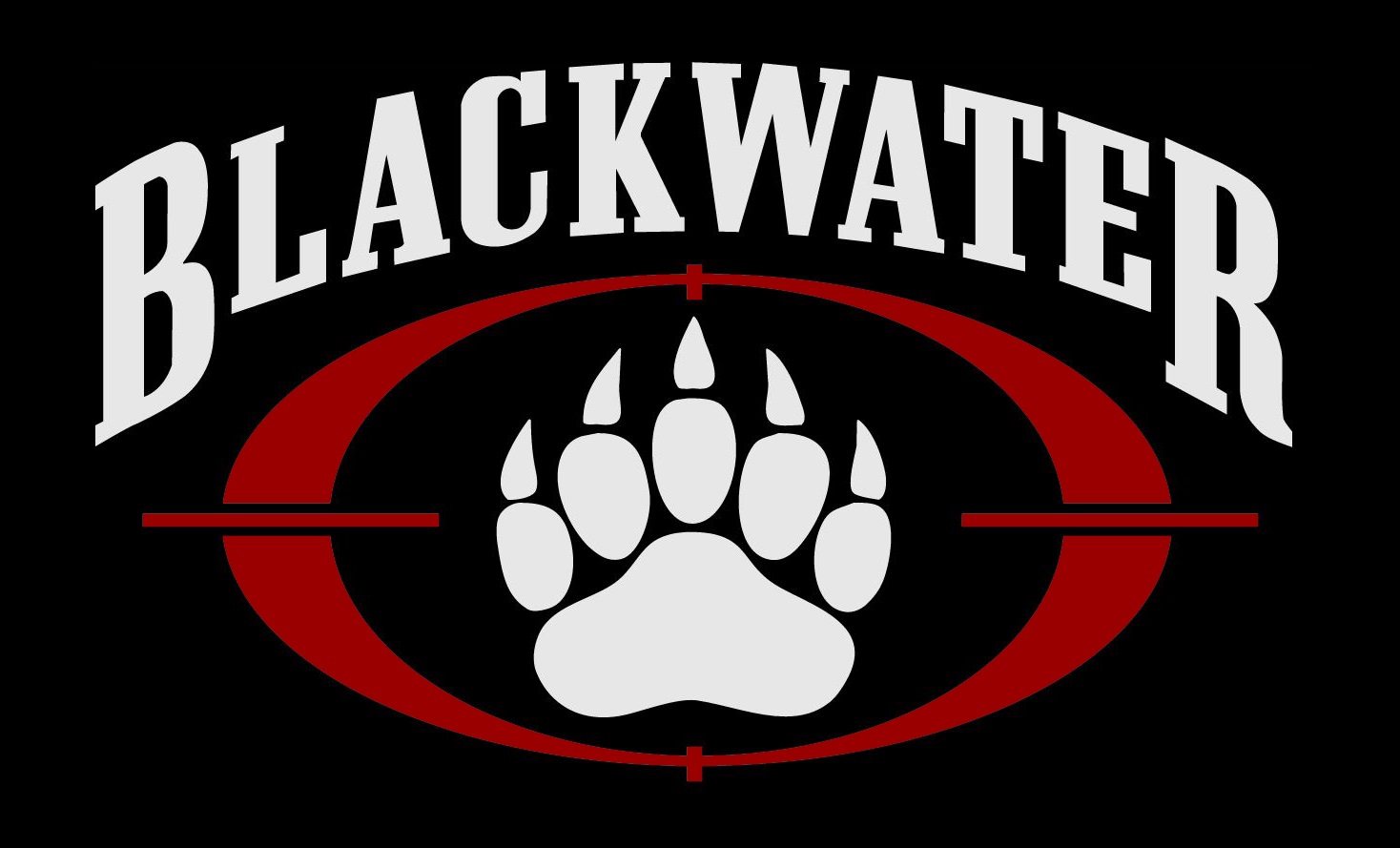 If you're a fan of SIG Sauer pistols, you've probably heard of the SIG P226 Blackwater, SIG P226 Blackwater Tactical, or the SIG 1911 Blackwater. This article presents a brief history of how the Blackwater Edition SIGs came to be, discusses the various SIG Blackwater versions that were available, and why SIG's successful partnership with Blackwater came to an abrupt and untimely end.
Blackwater USA and the Blackwater Training Facility
In 1997, Navy SEAL firearms instructor Al Clark was dissatisfied that the Navy didn't own its own firing ranges, and that they were forced to borrow time on Army or Marine Corps ranges and rent time at other firearms facilities that didn't suit the SEAL's special requirements. Clark came up with the idea of developing a private training facility for use by the Navy, but lacked the financial ability to launch the idea on his own. Clark partnered with one of his SEAL trainees, Navy SEAL officer Erik Prince, who saw a similar need for private training facilities and had the financial resources to help turn the idea into reality.
Prince and Clark formed Blackwater USA with the goal of training military and law enforcement groups. Prince was later quoted as explaining Blackwater's purpose as "trying to do for the national security apparatus what FedEx did for the Postal Service."
Blackwater opened its first training center in 1998, after Prince purchased 7,000 acres of swampland in Moyock, North Carolina (on the North Carolina-Virginia border). The company was named for the dark-colored water in the swamp.
Blackwater USA spent $6.5 million to build a variety of training ranges, including indoor, outdoor, and urban environment reproductions. The facility also included an artificial lake and driving tracks for vehicle training. The Blackwater Lodge and Training Center officially opened on May 15, 1998. The facility initially trained SEAL and police SWAT teams, but after the October 2000 bombing of the USS Cole off the coast of Yemen, the Navy granted Blackwater its first major contract, and Blackwater eventually went on to train over 100,000 Navy personnel. But even with a juicy government contract, the training facility was never financially viable on its own, and only continued operations by virtue of sales from a sister company, Blackwater Target Systems, which marketed and sold high-end automated target setups for gun ranges.
Blackwater Security Consulting
In 2002, Blackwater USA formed an additional sister company, Blackwater Security Consulting (BSC). Though the history of BSC's formation is as murky as the training facility's swamp, and multiple versions of its origin story exist depending upon who's telling the story. The predominant version is that BSC was founded by former CIA officer Jamie Smith, who served as Vice President of Blackwater USA at the time. Blackwater USA co-founder Erik Prince refutes this, however, and claims that Smith was a merely a "low-level administrator" who was fired for non-performance after a 30 day contract.
Regardless of who started it, Blackwater Security Consulting's first assignment in 2003 was to provide 20 contractors with top-secret clearance to protect two locations: the CIA headquarters and a second location that was responsible for housing personnel focused exclusively on hunting down Osama bin Laden. In August 2003, BSC received a $21 million government contract for a personal security detachment in Iraq. In 2004, they were hired by the US State Department and the Bureau of Diplomatic Security, in addition to providing security for a number of private firms in Iraq.
By 2006, BSC had over 1,000 staff in Iraq, and Blackwater USA had acquired an additional 80-acre facility near Chicago, Illinois and called it Impact Training Center (now operating in the same location as THE SITE Firarms Training Center).
Overall, BSC received over $1 billion in US government contracts, in addition to revenue from its private security services to corporations.
Blackwater USA Partners with SIG Sauer
In January 2006, SIG Sauer announced the SIG P226 Blackwater Special Edition (designated as E26R-9-BLACKWATER), which SIG designed with input from the Blackwater Training Facility. The press release sounded downright giddy:
The SIG SAUER® P226 Blackwater Special Edition was designed in cooperation with some of the world's best known experts in tactical operations – Blackwater Training Center. When personal protection of world leaders in high-risk environments is your job then you only want the best equipment. You want a SIG SAUER® pistol because it's engineered to perform and built to protect.
The P226 Blackwater Special Edition later appeared on page 15 of the 2008 SIG Sauer Product Catalog, with the disclaimer "(The P226 Blackwater is made in the United States and sold for U.S. Distribution Only)." Its improvements over the "standard" P226 included red front and green rear SIGLITE night sights, an accessory rail, front cocking serrations, an all-black anodized frame, and a Nitron-coated stainless steel slide. It also featured a "BLACKWATER USA" inscription on the front right of the slide. The P226 Blackwater Special Edition came with the original Blackwater logo (Blackwater would change their corporate logo in 2007) on both the top of the slide and its custom wood grips. An extra set of non-logo standard factory grips were also included.
The original P226 Blackwater Special Edition was only available only in 9mm with a DA/SA trigger, came with five 15-round magazines, and retailed for $1100. The earliest production date I've been able to find is March 2006.
Did Blackwater Contractors Really Carry P226 Blackwaters?
By 2007, Blackwater's reputation as contractors for private security, US agencies, in special operations, and in rumored black-ops around the world was well known. And whether or not it was actually the case, the clear marketing implication from SIG was that Blackwater contractors were carrying P226 Blackwater pistols, so if you wanted to be bada$$ like them, you should carry a P226 Blackwater, too!
The reality is that for the most part, a contractor working overseas in places like Iraq and Afghanistan is required to carry the firearm issued to them by the contracting agency — which in most cases will be a US Government bulk-purchased Glock 19 or a Beretta 92FS. In fact, it's a big no-no for Tier 1 contract companies like Blackwater to bring large numbers of firearms into a country, as that's considered arms smuggling.
When Blackwater provided security in Louisiana following Hurricane Katrina, newly-hired contractors were given the choice to bring their own weapons, or just bring their gun belts and receive a Blackwater-issued gun upon arrival. Those who left their personal weapons at home were issued Glock 19s.
I've read multiple reports of Blackwater contractors being spotted with a variety of firearms, including SIG, HK, and even Taurus. I have no problem believing that at least some Blackwater guys with the ability to choose their own hardware probably carried Blackwater Edition SIGs. But the truth is that most Blackwater guys spotted in sandboxes, as well as those training at Blackwater's North Carolina facility, carried a Glock 19.
Two New Blackwater SIGs in 2009
Through 2009, SIG continued to sell the original P226 Blackwater, and added P226 Blackwater Tactical to their line-up, designated as E26BR-9-BWTAC:
Both P226 Blackwater models appear right next to each other on page 14 of the 2009 SIG Sauer Product Catalog, and even though Blackwater USA had changed their corporate logo in October 2007, SIG must have had a bunch of the original P226 Blackwater wood grips still lying around (presumably from Hogue), since the original pre-2007 Blackwater logo still appears on the 2009 P226 Blackwater, while the updated post-2007 Blackwater logo appears on the newer polymer grips of the P226 Blackwater Tactical (look closely at page 14 to see what I mean).
The newer (and slightly more expensive) P226 Blackwater Tactical retailed for $1300 and kept all the previous "upgrades" of the original P226 Blackwater, with the following additions:
Larger beavertail on the frame
Short Reset Trigger (SRT) kit
Tru-Glo front sight
Updated Blackwater logo on the slide
Updated Blackwater logo on polymer magwell grips
Four 18+2 round magazines (effectively 20 round magazines)
Also in 2009, SIG doubled-down on its Blackwater partnership by launching the SIG 1911 Blackwater, designated as 19GS0042 (and appearing on page 24 of the 2009 catalog):
The SIG 1911 Blackwater was a full-sized (aka "Government-sized") single-action 1911 pistol, chambered in .45 ACP. It retailed for $1290, shipped with four 8 round magazines, and included the following modifications over the basic SIG 1911:
Nitron-coated slide
Heavy barrel-bushing
Ambi-safety
Checkered front strap
Blackwater logo (updated version) wood custom grips
Blackwater logo (updated version) on top of the slide
Extended magwell
Novack-style night sights
Skeletonized "Commander" hammer
True Picatinny rail (as opposed to the curved SigRail on the P226 Blackwater and P226 Blackwater Tactical)
"BLACKWATER" inscription on the right right of the slide (not "BLACKWATER USA" as on the P226 versions)
Late-Run P226 Blackwater Special Edition
You won't find it in any catalog, and I can't find any source for a definitive date for the changeover, but near the tail-end of the P226 Blackwater's run, SIG apparently updated the original P226 Blackwater (not the P226 Blackwater Tactical). My guess is that they probably ran out of the original wood grips with the old-style Blackwater logo on it and asked Hogue to make a new run of wood grips with the updated logo, because that's the first difference I noticed. Although SIG apparently still had plenty of the original Blackwater grey paper bands with the old-style logo on hand. 🙂
Here's a late-run P226 Blackwater with the new-style logo wood grips and old-style logo band:
I also believe SIG changed to standard green SIG night sights all the way around, instead of the red front sight.
The other big change was that the inscription on the right side of the slide was updated to simply read "BLACKWATER" instead of "BLACKWATER USA" (just like the 1911 Blackwater), because along with the logo change, Blackwater USA also changed their name in 2007 to Blackwater Worldwide:
The new-style logo was also applied to the top of the slide:
As with the original P226 Blackwater, this late-run version still came with five 15 round magazines and an extra set of original (non-logo) P226 factory polymer grips:
(special thanks to Chuck Leslie for helping me sniff out these late-run undocumented changes)
Nisour Square Shootings
On September 16, 2007, only a few months after SIG started shipping their first P226 Blackwater Special Editions, employees of Blackwater Security Consulting were escorting a US Embassy convoy through Nisour Square in Baghdad, Iraq. Several of those employees were involved in a shooting incident which resulted in 17 Iraqi civilians being shot and killed, with at least 20 additional civilians wounded.
The Nisour Square incident was reported in the New York Times on October 3, 2007, as well as in USA Today on October 7, 2007. Early details were sketchy and the initial version of the story was that Blackwater employees were merely "accused" of opening fire on civilians, and that a full investigation was still underway. Blackwater claimed that the convoy it was guarding was ambushed, and that its employees "responded appropriately."
The incident strained US-Iraqi relations, but the story didn't gain a lot of traction in the US until more than a year later, when an FBI investigation concluded that at least 14 of the 17 Iraqis killed in the incident were shot "without cause."
In December 2008, five of the Blackwater guards involved in the Nisour Square shooting were charged with 14 counts of manslaughter and 20 counts of attempted manslaughter, in addition to a weapons charge for use of a machine gun.
On December 31, 2009, a US District judge dismissed the charges against all five guards, declaring that the case against them had been based on testimony given in exchange for immunity.
But in April 2011, a US Federal Appeals Court reinstated the manslaughter charges against four of the five guards. The fifth guard was cleared of wrongdoing. A sixth guard pleaded guilty to voluntary manslaughter and attempted manslaughter.
On January 6, 2012, Blackwater settled a lawsuit filed on behalf of six of the victims for an undisclosed amount.
On October 22, 2014, a Federal District Court jury convicted one of the four guards of first-degree murder, and remaining three were found guilty of three counts of voluntary manslaughter and "using a machine gun to commit a violent crime."
On April 13, 2015, the first guard was sentenced to life in prison, while the other three guards each received 30 years in prison.
If you want to know the names of the guards involved, you can easily find them with a simple web search. My personal opinion is that they've been punished enough, and they don't need one more website posting their names. I make no judgements — good or bad — about their actions, as I wasn't present. Chances are, neither were you.
SIG Sauer Distances Itself from Blackwater
Exact dates of how and when SIG backed away from the partnership with Blackwater are, once again… much like the swamp for which they're named: murky. The charges against the Blackwater guards had been initially dismissed in December 2009, which coincidentally happened to be the the same year that SIG released their second and third Blackwater Editions, the updated P226 Blackwater Tactical and the 1911 Blackwater.
But by 2010, things had changed. Blackwater's involvement in the Nisour Square shootings kept making headlines, the term "guards" was replaced more and more with "mercenaries" in the media coverage, and protests against Blackwater became more visible:
SIG Sauer's 2010 Product Catalog still includes both the P226 Blackwater Tactical and 1911 Blackwater (on pages 28 and 38 respectively), but by March of that same year, reports had already surfaced from factory reps that SIG was no longer producing Blackwater Edition pistols, and that dealers shouldn't expect any more shipments of them.
Apparenty, someone at SIG had decided it was time to kill the relationship in true black-ops fashion: as quietly, discreetly, and completely as possible… so much so that not a single one of the three Blackwater Edition pistols is mentioned anywhere on SIG's Discontinued Pistols page of their website.
It's almost as if SIG wants us to think they never existed… which only adds to the "black-ops" mystique.
SIG Sauer TACOPS is Born
The Blackwater pistols had been among the highest-priced (and presumably the highest margin) pistols in SIG's history, so the decision to pull the plug on the Blackwater partnership couldn't have been easy. But in early 2010, around the time that reports of the Blackwater partnership's demise began to circulate, rumors of near-identical versions of the tactically enhanced pistols (minus the Blackwater logos and branding, natch) began to appear on SIG discussion forums.
By the time the 2011 SIG Sauer Product Catalog was published, the P226 TACOPS (short for "Tactical Operations") featured prominently on page 4, while the new 1911 TACOPS appeared on page 21. Their specs were essentially the same as their respective Blackwater versions… minus the branding of the maligned company whose employees' federal charges had been re-instated that very same year.
The stealthy switch-out paid off big for SIG, and the SIG Sauer TACOPS pistols are still among their most popular sellers — and for good reason. I own one of their 1911 TACOPS pistols, and it still holds the distinction of being the most accurate and easy to shoot "out of the box" gun I've ever owned (trailed very closely by my SIG P226 Legion). A couple of years ago, I made an unboxing and field strip video with my 1911 TACOPS for my YouTube channel. Check it out if you've got nothing better to do. 🙂
SIG Blackwater Edition Pistols Today
Because of their brief and storied history, Blackwater Edition SIG pistols (as well as the wood and polymer Blackwater grips for the P226 and 1911) tend to fetch higher-than-averge prices whenever they pop up for sale, which seems to be less and less these days. In February 2013, I saw a set of P226 Blackwater plastic magwell grips sell for $120 on eBay, and as of the day of this article, there's currently a set of Blackwater P226 wood grips on eBay with a starting price of $200. Yes… that's for just the grips. Scandal sells, my friends.
Whatever Became of Blackwater USA?
In October 2007, one month after the Nisour Square incident, Blackwater USA changed its name to Blackwater Worldwide, and made some minor changes to it its logo: removing the "BLACKWATER" text, modifying the claw to look more like an actual bear's, and slightly de-emphasizing the red "cross hair" reticle in the original design.
But a logo change wouldn't be enough. In February 2009, Blackwater USA changed its name to Xe Services LLC (pronounced "zee" like the last letter of the alphabet). One month later, co-founder Erik Prince resigned as CEO. The company was sold to a group of investors a year later in 2010 and renamed Academi, then was later included in a 2014 multi-company merger and now exists as part of the Constellis Holdings group of companies.
The original Blackwater Training Center in Moyock, North Carolina is still operated by Academi, but is now called the United States Training Center (USTC). It offers tactics and weapons training to military, government, and law enforcement agencies.
Mossberg Gets In on the Action
As a small postscript, it seems SIG wasn't the only firearms company that "partnered" with Blackwater (or more likely, licensed the Blackwater logo for marketing purposes in return for a licensing fee). Mossberg offered "Blackwater Series" versions of three of their most popular shotguns: the 590A1, 500 Cruiser, and 930 SPX:
But here's the strange part: Mossberg announced their Blackwater Series shotguns at the annual SHOT show in January 2011… long after Blackwater USA had ceased to exist in 2009, been renamed "Xe" in 2010, and then sold and renamed again as "Academi" in 2010. Again, apparently scandal sells.
Wrapping It Up
So there you have it: the rise and fall of the SIG Sauer / Blackwater partnership; a partership which led to the successful TACOPS line for SIG Sauer, and to a predictable corporate re-structuring for Blackwater (now Academi). It's an American "love story" for sure, but it's up to you to decide if it had a happy ending. 🙂
We'd love to know what you think of this article! Please share your comments, questions, corrections, and feedback below.