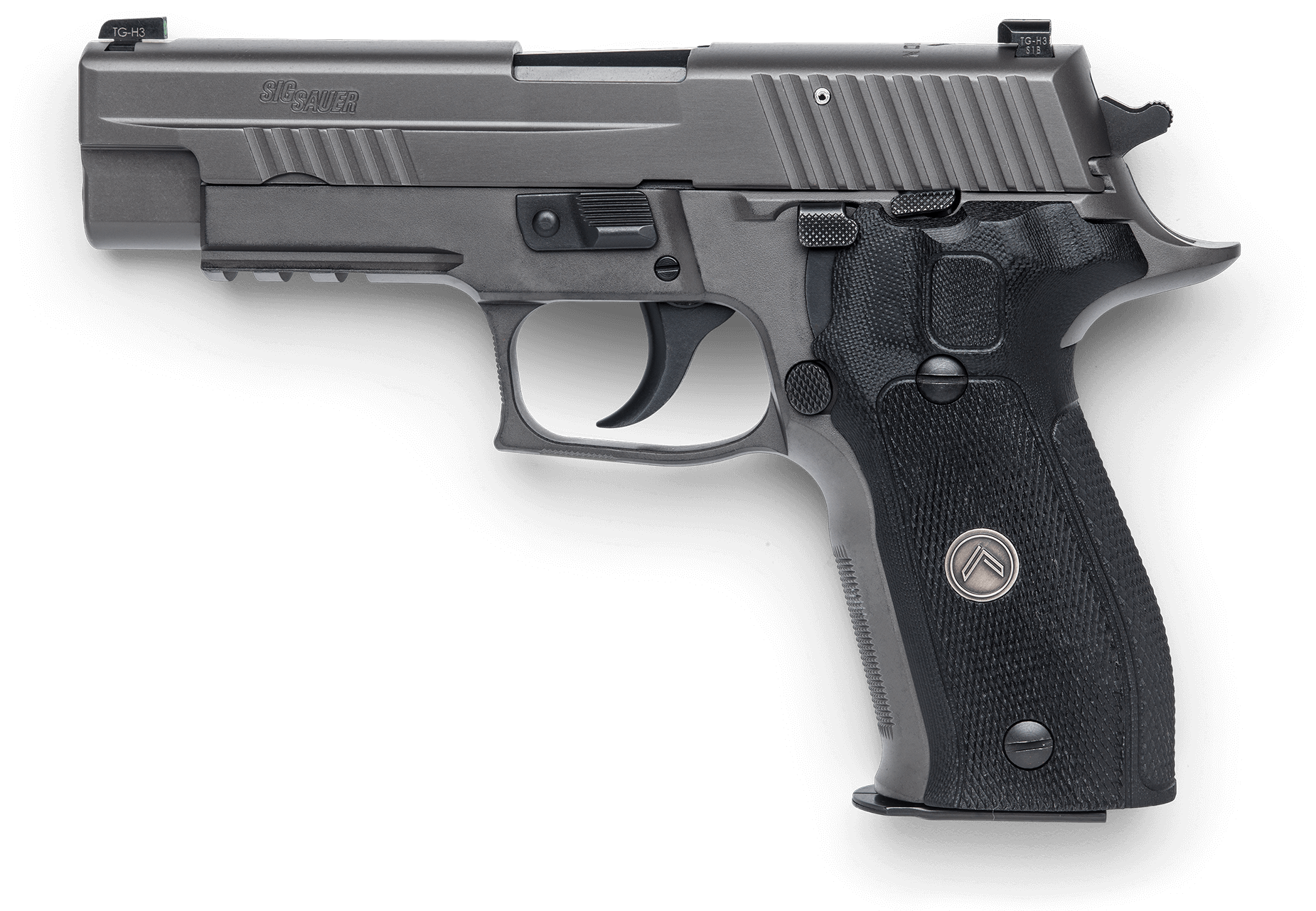 Step 2: Update your P226 Grips
One of the first things I noticed about the P226 Legion when picking it up is how comfortable and natural it feels in my hand. Some of that is due to the beavertail on the Legion. SIG calls it the "reduced and contoured Elite" beavertail, meaning they started with the large design on the Elite models and then, well, they reduced and contoured it.
The original P226 design had no beavertail at all. If this were a Goldilocks story, we'd call that the "Momma Bear" beavertail, because it's too small:
A large beavertail appears on variants like the P226 TacOps and P226 Elite. I happen to like the feel of an Elite beavertail, but it's too large for some, especially when carrying concealed. We'll call that the "Papa Bear" beavertail:
The Legion's "reduced and contoured" beavertail is somewhere in-between the two. So we'll call it the "Baby Bear" beavertail, because it's "juuuuust right!"
Short of getting a new frame, there's nothing you can do about the existing beavertail on your gun. But the Legion's increased ergonomics are not all about the beavertail — much of the Legion's natural feel is due to the customized Legion G10 grips provided by Hogue.
To preserve the Legion's exclusivity, you can't order the Legion grips from SIG, even if you already own a Legion. They'll replace Legion grips under warranty, or install new Legion grips for a fee if you damage yours and send the gun back to them so they can keep the old ones, but to prevent them from popping up on eBay (trust me, I already looked), they're not letting anyone else get their hands on them.
However, you can get pretty darn close with the Hogue Extreme G10 Checkered grips, which you can score on Amazon for around $100. Here's a side-by-side comparison of the Hogue Legion G10 grips next to the Hogue Extreme G10 grips:
Clearly, the Legions grips are based on the Checkered G10 grips, plus a smidge of custom treatment, then a Legion medallion embedded in the sides.
Compared to the original P226 plastic grips, the Hogue G10 grips (and the Legion grips) provide a more comfortable grip for those with less-than-large hands. To come as close to humanly possible to recreating the Legion grips, I've actually seen those Legion medallion inserts for sale on eBay. However, it seems kind of "poseur-ish" to run Legion medallions on a non-Legion gun, so I purchased some SIG logo medallions on eBay, and plan to insert them in my G10s for a custom look, kind of like the P226 Engraved wood grips:
And don't forget about your grip screws! Older West German SIGs often have a bit of rust on the screws, which will stand out when you install brand new grips. I like that look on an all-stock classic SIG, but if you're going for a grip upgrade, the old screws will look out of place. If you've already got a P226 parts kit, it contains four new grip screws you can use to replace your old ones as needed . Or you can order a set of four Hogue grip screws for under $10 on Amazon.
If you're going for the Legion look and feel, the Hogues are the way to go. But they're not the only option when updating your grips. Plenty of P226 grip choices are available, including SIG's E2 ergonomic grips, which are very popular among a lot of shooters, including me:
Like the Hogue G10 Extremes, the E2 grips are a lot thinner than the original factory grips. That, combined with their sandpaper-like texture, allows me to get really confident handle on the gun. I run the E2 grips on my P229R Stainless Elite, as well as my P226 MK25. The E2 grips will fit on a West German P226, but you have to use an E2 hammer strut, E2 mainspring seat, and a newer-style mainspring. The E2 hammer strut and seat are included with the E2 kit, but you'll have to purchase the newer-style mainspring separately. It's part# MAINSPRING-1, and it's around $6. You can watch my E2 Grips Install video to see how easy they are to install.