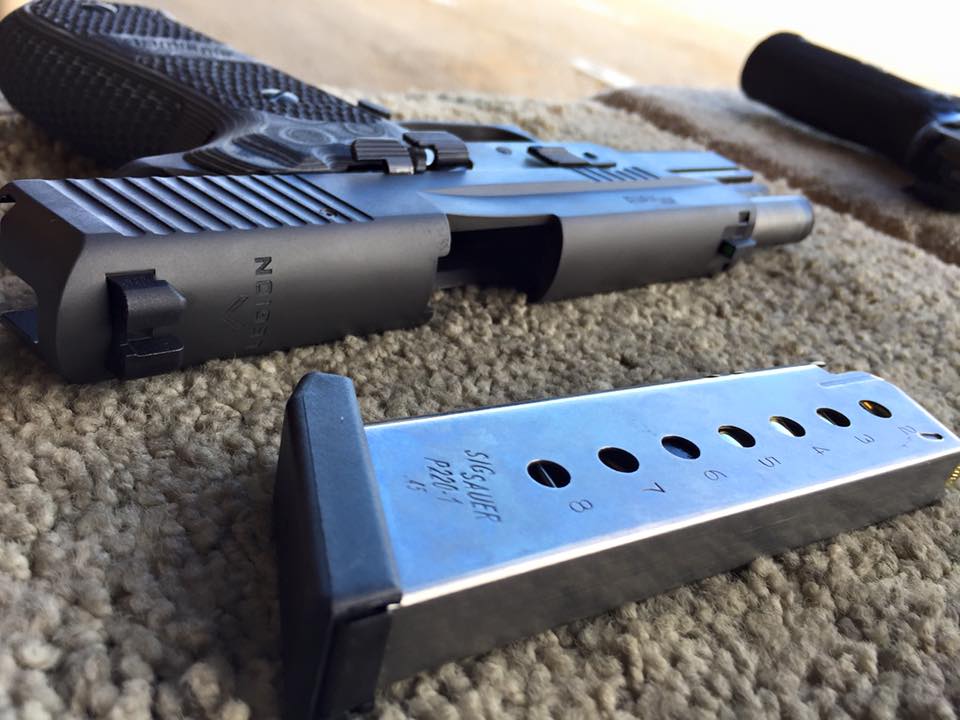 Yesterday, on the afternoon of SIG Range Day at SHOT 2016, SIG quietly posted a few photos to their Facebook page. They didn't provide captions, or details, or anything other than some photos and SHOT Show related hashtags.
First Shots of the P220 Legion
Among the photos I found most interesting was this one, which looks a whole heck of a lot like SIG is about to add the P220 to their top-end Legion series. As to whether it's just marketing hype, or worth the extra coin, is for you to decide (our other article on the P226 Legion might help you make up your mind):
If you noted that the grips that the Legion are the Hogue Piranhas, you're right. But don't despair, I have it on good authority that customized Legion-medallioned G10 Extreme grips from Hogue (who also make the custom P226 and P229 Legion grips) will be on that P220 Legion later in the week. Maybe they got delayed in the mail? 🙂
I also notice that unlike the P226 and P229 Legion, the P220 Legion doesn't seem to have the checkered decocking lever, slide lock lever, or magazine catch. I hope they appear on the final version, because I think they help make the Legion series guns more distinct from SIG's other models.
UPDATE: Thanks to TopGunSupply, we have an updated photo of the P220 Legion at SHOT 2016, and it looks like the custom Legion medallion grips finally arrived:
SIG Reboots the Classic P210
A couple other photos also caught my eye, with pistols that look very much like SIG's classic P210:
A little more digging confirmed that yes, those are indeed P210 pistols that SIG is "almost ready" to launch: the SIG P210 "Target" and P210 "Classic." For those who've been pining for a P210 of their own, but didn't want to drop collector dollars on one, these new retro-inspired modern versions might do the trick.
I also have it on good authority that SIG will be showing a P227 Stainless Elite at SHOT 2016, along with a P320 "Target" model with a 5″ barrel.
What do you think of SIG's new offerings for 2016? Sound off in the comments below!